Trophy "RécitSproque" - Go Paris Tournament 2008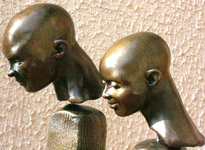 An original sculpture has been created by artist Brigitte Fournier-Valette meant to be Paris Go Tournament Trophy, sponsored by the company RécitSproque.
Here is the view of the artist about her artwork:
"The first point of the foundation of this sculpture is the Yin and Yang. My creative vitality has been dedicated and concentrated in a natural respect to those two principles. I started to search for an expression of purity, openness and harmony. The multiple possible, provided by the mobility of two heads, revealing the subtlety of this work. The Yin and Yang are then put into action; receiver and transmitter, one becomes one each in turn. Everything is changing and every moment has its intensity. Of all these possible radiate balance, listening, sharing and real exchange."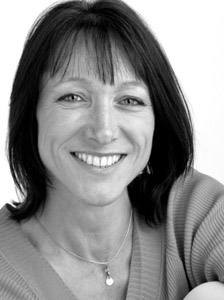 About the artist:
Brigitte Fournier-Valette is born in 1958 in Saint Maur des Fossés
Of scientific education, in biology, she starts fine arts studies the Sorbonne University. At the Duperré School of Paris, she discovers the practice of the moulding. Since her master's degree in fine arts, in1982, she never ceased handling the ground with all the respect which she deserves and to teach in College specialized in applied arts.
Impassioned by the dance, Brigitte Fournier-Valette model carves and paints the movement and the couples with energy, in deep intimacy with the matter. Each one of her works carries this vitality at the same time carnal and mineral, carnal and metal. In early eighties, her work was very inspired by the one the Spanish sculptor Gargallo who handled metal by combining the full ones and the hollows. In 1995, she turns to the drawing. With the pastel, the black stone and the acrylic resin, she unrolls with tenderness the topic of the male body. This "mâlitude" in large size, dealt with sharp gesture, interpellates by her force interfered with frailty. "Black Rhythm" in 1999 and the "Sevillanas" in 2004 see her renew again with the dance that she draws and carves, printing this time an optimism which left it more. Since 2005, her African?s busts reflect the heart of the Black Continent, elegant, worthy and true. Interracial fraternity is thus run in bronze. Though extremely different the work of Brigitte Fournier-Valette diffuses same generous humanism as those of Ousmane Sow, Ernest Pignon-Ernest or Hassan Massoudy. Vital energy and the gasoline of the individuals always animate the main thread in her creation. A question seems to be put by this artist : did we forget that we have all the same ADN ?
Discover her masterpieces
on http://brigittefourniervalette.com