New ambitions for an "old" tournament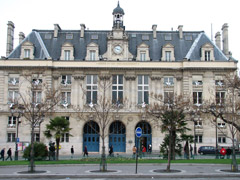 We owe our confidence in the organisation and logistics management of this tournament to 35 years of experience and the constant support of the Mairie de Paris.

Starting in 2008, the FFG is giving the Tournoi de Paris a new importance among the great international tournaments. The 2008 edition will have larger cash prizes, more foreign players (both professional and amateur) and a much wider media coverage.

Our goal is to enhance these 3 elements over the years (finances, participation and media coverage).

Lastly, this new approach will make it easier to bring together the Asian professional associations and the development of Go in France in the long run.




Main Tournament
Biggest Open in Europe, the main event of this tournament will bring more than 300 players from 20 different countries in the wonderful room of the Mayor of the 13th arrondissement.
Best European Go players will compete for the final of the European Pandanet cup 2007-2008, last of 20 tournaments around Europe.
The tournament competes on an equal footing in 6 rounds with a time of 1:30 by players and a byo-yomi 15 Canadian stones in 5 minutes. The rule is used with a Japanese Komi of 6.5 points.
The rule of the tournament is the European Go Federation one, what is apply in the Pandanet European Go Cup, available here.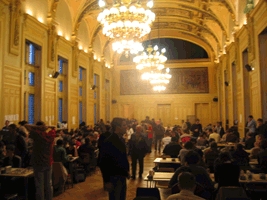 Grande salle où se jouent les parties.
IA-GO Challenge 2008 - Challenge of Go and Artificial Intelligence
Based on an original idea of Marc Jégou and in association with the Institut National de Recherche en Informatique et en Automatique (INRIA), this exceptionnal challenge will take place parallel to the main tournament.


IA-GO Challenge 2008
Challenge of Go and Artificial Intelligence.


Developped by the INRIA Futurs, Mogo, (actually the best computer programin the world)will challenge a professional player. The winner will be decided by a series of games played on both 9x9 and 19x19 boards.

Blitz Tournament
A speed game tournament open to the players of the main tournament. These games are held with an SD 10 minute clock for each player. It is a knockout (direct elimination) tournament.