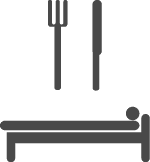 Accommodation solutions
Here are the addresses propositions for accommodation in Paris.
Auberge de jeunesse de Paris (Paris Youth Hostel)
10, rue Trousseau
75011 PARIS
Price : 15 euros per night, reserved to people under 25 years old (possible derogation).
Centre International de Séjour de Paris (Paris International Holiday Centre)
17, Boulevard Kellerman
75013 Paris
Price : between 19 and 35 euros per night.
Close to the Tournament place
Hotels Formule 1
Porte de Chatillon, Porte de Montreuil (Montreuil or Chatillon Gateway)
Price : around 30?, take a look for registration online
here
Hotel Arian
102, Avenue de Choisy
75013 PARIS
Price : from 42? per night.
10 minutes by feet to the Tournament Place
On
this website
, there are accommodation propositions from 35 euros per night (to be verified).