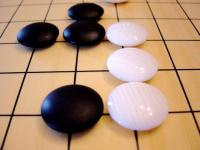 The Fédération Française de Go (FFG) is taking a turn towards a new development plan as well as new ways to promote the game of Go in all its aspects:

-A game: the simplicity of the rules combined with the immense depth of the game and its challenging strategic and tactical situations make Go a fascinating challenge for young and old alike.

-A mental sport: the image and results of French players abroad in this top level mental sport are a direct result of the FFG?s constant efforts, as the French junior team?s performance shows in international tournaments.

-Knowledge and learning: the game of Go develops analysis and concentration abilities for children and adults. Generally speaking, Go is considered as a tool for personal development.

-A cultural bond: it also allows to enjoy and share a passion with many other cultures and players, such as the Japanese, Chinese and Korean professionals who participate in the Paris tournament.

-Intellectual applications: With its simple rules making it a universal game, go is recognized and used as a game for economical simulation, negociaton, political strategy and business management.

In 2008, the 36th edition of the Paris Go Tournament, open to both professional and amateur players from Europe and Asia, is the first step towards this new development.

As the biggest Open tournament in Europe, it will bring together over 300 players from at least 20 countries. The best European players will be playing the final round of the Pandanet european cup 2007-2008, the last step of a 20 tournament circuit.

New ambitions for an "old" tournament

We owe our confidence in the organisation and logistics management of this tournament to 35 years of experience and the constant support of the Mairie de Paris.

Starting in 2008, the FFG is giving the Tournoi de Paris a new importance among the great international tournaments. The 2008 edition will have larger cash prizes, more foreign players (both professional and amateur) and a much wider media coverage.

Our goal is to enhance these 3 elements over the years (finances, participation and media coverage).

Lastly, this new approach will make it easier to bring together the Asian professional associations and the development of Go in France in the long run.